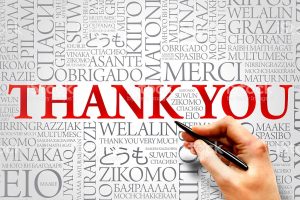 Testimonials:
Chuck Morris President and Owner of AEG Presents:
"I am the biggest fan of John's work. He has helped the Colorado Music Hall of Fame put our vision into a perfectly packaged piece of art time after time. Thank you for all that you have done for AEG and Colorado Music Hall of Fame, forever grateful."
Suzanne Luna – Emmy award winning field director for The Ellen DeGeneres Show
"John March composed original music and did all the post production in sound and music for an extensive video project of mine. He was not only a pleasure to work with but meticulous in both crafts of creating tracks AND fixing some of the mistakes that were made during our shoot. His work elevated my project to a MUCH higher level and I couldn't recommend him enough, an absolutely talented musician and audio professional. You need someone like him on your project."
"For the 2nd year in a row I hired John to write, produce, edit and mix all of the Induction ceremony videos for the annual ceremony concerts. As Executive Director of the Colorado Music Hall of Fame and former Director of Swallow Hill Music I've been in a lot of "crunch time" situations. The old adage is "you can have it great, or your can have it fast, but not both."  In John's case he delivered both. With a turnaround time of less than seven weeks John March scripted and produced ten exceptional mini-documentaries about the 2019 Hall of Fame inductees! These projects combined found and acquired footage, artifacts and photos and complete with music, (some original music by John) and recorded and edited VO (voice over), that are all every bit as compelling as anything that Ken Burns or other documentary producers have created. John March is simply a miracle worker! If you are looking to hire a great Producer, filmmaker, documentarian, musician and kind human being, look no further!"
Director, Rocky Mountain Archtop Festival –
"John March helped me pull off an otherwise impossible task of producing a guitar show and music festival.  When we first started talking to John about our idea for the Rocky Mountain Archtop Festival, it was clear that he shared my passion for making this happen in Colorado, and his participation was going to be critical to our future success. He told me "don't worry, we're going to make this happen, this has to happen." Along with the professional service provided by John and his wonderful crew, John personally added invaluable advice and consultation derived from his extensive background in media and production, a service I could never have gotten from anyone else.  I consider John March a critical partner to keeping the Rocky Mountain Archtop Festival going in Colorado, as well as helping to keep Henriksen Amplifiers a locally growing and thriving enterprise. "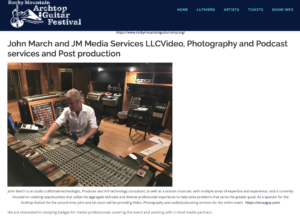 Kelley St. Germain, President/Germain Media LLC www.GermainMedia.com  
"I was coordinating a project where my team was stuck on the music selection and style for a particular corporate video. A mutual acquaintance recommended  that we talk to John for some custom music and sound design, and I am very glad we did! He was a breath of fresh air that seamlessly stepped in like he had been working with us for years. His creativity and professional expertise helped us to finish the project and exceed the client's expectations. I highly recommend John March if you are looking for custom/original music and sound design. He is a pleasure to work with!"
"John March was more than a pleasure to work with. The final product was absolutely incredible and exceeded all expectations we had- by far! Additionally, he reached out to us offering to help a small local non-profit, this means the world to us! He has a big heart and real talent, which is what you really want to see in anyone you work with. John is solid gold! I would high recommend his services for you or your business and hope to work with him again in the near future! John, Thanks for all you do!!"
Mike Stern – Jazz and Fusion Guitarist:
"I wanted to get back to you about that Ted Greene tribute CD that you sent. Really beautiful! Keep doing what you're doing, you sound awesome. You play all that stuff so beautifully and also your sound and your lines as well as the amazing chord work that you do…You have such a strong melodic sense… Sounds beautiful!
Thank you bro and thank you for your great work on mixing the CD with Bob and me! It really sounds wonderful and you're a badass! Both as a player and as a recording and mixing engineer! …Bob sounds fantastic. I'm proud to be a part of it."
Christian Teele – Drummer, session musician, E-Town –
"It is with great pleasure that I sit down to sing the praises of John March. John and his team came to me, a musician in need of video work for promotions, but not in a position to afford it. He told me he wanted to help me and other artists/musicians in the area to be able to promote ourselves with our own custom produced video documentaries. I was completely taken aback. Rarely if ever have I had someone take such an interest in what I do, and to be so generous with their time. John and his team came to my house, helped me get my studio set up for good video shots and then filmed me playing music and answering questions. He then took all of that and edited it together into an amazing video that I can now use for years to come to help promote my art. One thing that stands out, is that John, knowing that my dad was a musician and had recently passed away, made a point of including pictures and information about my dad, so that the video is not only about me but also about my father and his legacy and how he passed on his love of music to me. I truly cherish the video and am so thankful for all that John did for me. He is a true asset to our community and I highly recommend him whenever I have the chance. "
– "John March is a passionate man, a friend of the future, dedicated to uplifting the world through film. He clearly loves the medium and the message, eager to professionally engage with his subject. We enjoyed his team, a crew of kind and skillful men. John and his team create stories that are clear and straight forward, beautiful film work!"            
Karl Katham, Studio owner, session drummer and educator at Karllatham.com  
"I have known John March for a long time. He has established himself on both coasts among the top tier of producers, mixing engineers, ProTools experts and studio guitarists. Over the last two years I was privileged to work once again with John on one of his CD releases, as well as a Jazz CD he produced. John's work is creative, all-encompassing and impeccable in every manner. He has created world class resources and skillsets for creating remote guitar parts, ProTools session work/mixing and sound design, and basically anything a client may need. If you are looking for a great Producer, Mixer or Guitarist, John is your go to guy. Highly recommended."
"John March was more than a pleasure to work with. The final product was absolutely incredible and exceeded all expectations we had- by far! Additionally, he reached out to us offering to help a small local non-profit, this means the world to us! He has a big heart and real talent, which is what you really want to see in anyone you work with. John is solid gold! I would high recommend his services for you or your business and hope to work with him again in the near future! John, Thanks for all you do!!"
Bruce Nazarian – CEO, Digital Media Consulting Group, Inc.
"I have known and worked with John March for several decades, and through all that time have found his work to be consistently exemplary, and on-point. Whether working creatively as a session guitarist, audio engineer, Synclavier or Pro Tools operator, Mixer or Producer, his work has always been top-notch, with great attention to detail, and great results.
I never hesitate to hire John for any current need I have, and I always recommend him to others who are looking for similarly-talented individuals."
Victoria Preminger – Vice President business affairs & legal at NBC Universal
"John is an extremely talented and qualified Producer, with a wide ranging expertise. He would be an asset to any organization looking to hire him."
"John March has been working for eNaropa and the Authentic Leadership program, in the roles of Media consultant and Production and Post Production services. He has been consulting for us on content development as well as video editing, sound mixing and producing media for our programs. He has many good ideas around cost effective workflow solutions and technology acquisition and development.
My job is to create engaging online curriculum in various mediums, and John was supportive and helpful in selecting great moments in the video and audio materials we were working with.
John is an extremely focused and creative problem solver. He is also a team player, committed to achieving the best possible outcome for the project. He is efficient and hard working, and consistently delivered his work in a timely manner.
We are extremely pleased with the work John has done for us, and plan to utilize his services again in the future as needs and projects arise. If you are looking for someone who can solve a wide range of technical and creative problems in the arena of Media Production, look no further."
Charlotte LaSasso – Executive Director Boulder County Arts Alliance

"Just want to thank you again, in writing, for the beautiful video and for your moral support, in general, of BCAA. It's been a pleasure working with you thus far and we're looking forward to continuing the relationship."
David Bondelevitch – Associate Professor, Music & Entertainment Industry Studies at University of Colorado Denver
"John is an extremely talented and experienced mixer who has given guest lectures to my class at CU Denver. He would be an excellent addition to any project."
Joe Richey – Producer for Alternative Radio National syndicated radio Programming
"In spite of Boulder's highly intelligent, skilled workforce, there are few audio and video producers here who possess the wealth of experience, from decades in the music industry, from Los Angeles to New York, than John March. Anyone needing an audio or video producer can rely on his clear communication, and completing work in a timely and excellent manner. John will improve any and all projects that come to his desk. Here at Alternative Radio we have called upon John on a number of occasions, to help with some forensic sound editing and repairing poorly recorded material. His knowledge of cutting edge sound editing tools surpasses anyone else's in our outfit. He has helped countless performers. performance venues and events.  I highly recommend John to artists and entrepreneurs  who want to improve their project's production value, to contact John."
Scott Rowland –  Owner and Lead Editor for ALOC Media
"I was lucky to meet John March in August of 2016 at the Boulder Fringe Festival. Soon after, he became a consultant for my company, ALOC Media. He has helped to facilitate a long overdue change in my drive to become a knowledgable videographer, editor and business owner. He taught me the importance of having a high level of technical skill, and to push the limits of my craftsmanship. Now I think of him as a teacher and mentor. John's contributions as a producer, mixer and sound designer have drastically improved the level of professionalism inherent in our video production process. I highly recommend John March to anyone in need of A/V services or consultation. I look forward to working with him on projects that benefit the Boulder community for years to come."
Ari Frankel – Program Manager ~ Producer
"John not only talked the talk, but also walked the walk and played the notes: every session and project with him was energetic, to the point, and delivered great results. He is a special, knowledgeable asset to every production.