John March has been working for eNaropa and the Authentic Leadership program, in the roles of Media consultant and Production and Post Production services. He has been consulting for us on content development as well as video editing, sound mixing and producing media for our programs. He has many good ideas around cost effective workflow solutions and technology acquisition and development.
My job is to create engaging online curriculum in various mediums, and John was supportive and helpful in selecting great moments in the video and audio materials we were working with.
John is an extremely focused and creative problem solver. He is also a team player, committed to achieving the best possible outcome for the project. He is efficient and hard working, and consistently delivered his work in a timely manner.
We are extremely pleased with the work John has done for us, and plan to utilize his services again in the future as needs and projects arise. If you are looking for someone who can solve a wide range of technical and creative problems in the arena of Media Production, look no further.
Charlotte LaSasso – Executive Director Boulder County Arts Alliance

"Just want to thank you again, in writing, for the beautiful video and for your moral support, in general, of BCAA. It's been a pleasure working with you thus far and we're looking forward to continuing the relationship."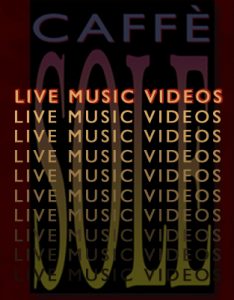 I met John March  4 years ago when he began playing a weekly residency at my venue Caffe Sole, here in South Boulder. He played with the Boulder Blues Quartet every Wednesday for almost 18 months. He also produced a wonderful 3 hour Live broadcast for KGNU's 30th anniversary Blues Broadcast. In the time I have known John we have become good friends and worked on several projects together. He has consulted for me regarding sound and acoustics for my venue, and equipment acquisition for sound and lighting.
Recently John produced a video for me that is an excellent promotional tool for marketing and Brand awareness for Caffe Sole. I love the video and John did great work telling the story of who we are and what we do. John is a thoroughly excellent and consummate professional, and I recommend him with the highest possible praise. He is thorough, punctual and always working towards the best possible and most creative solutions. If you need to produce a video or need some help with sound or music, John is the guy to see!
David Bondelevitch – Associate Professor, Music & Entertainment Industry Studies at University of Colorado Denver
"John is an extremely talented and experienced mixer who has given guest lectures to my class at CU Denver. He would be an excellent addition to any faculty."
Scott Rowland –  Owner and Lead Editor for ALOC Media
I was lucky to meet John March in August of 2016 at the Boulder Fringe Festival. Soon after, he became a consultant for my company, ALOC Media. He has helped to facilitate a long overdue change in my drive to become a knowledgable videographer, editor and business owner. He taught me the importance of having a high level of technical skill, and to push the limits of my craftsmanship. Now I think of him as a teacher and mentor. John's contributions as a producer, mixer and sound designer have drastically improved the level of professionalism inherent in our video production process. I highly recommend John March to anyone in need of A/V services or consultation. I look forward to working with him on projects that benefit the Boulder community for years to come.
Joe Richey – Producer for Alternative Radio National syndicated radio Programming
In spite of Boulder's highly intelligent, skilled workforce, there are few audio and video producers here who possess the wealth of experience, from decades in the music industry, from Los Angeles to New York, than John March. Anyone needing an audio or video producer can rely on his clear communication, and completing work in a timely and excellent manner. John will improve any and all projects that come to his desk. Here at
Alternative Radio
we have called upon John on a number of occasions, to help with some forensic sound editing and repairing poorly recorded material. His knowledge of cutting edge sound editing tools surpasses anyone else's in our outfit. He has helped countless performers. performance venues and events.  I highly recommend John to artists and entrepreneurs  who want to improve their project's production value, to contact John.
 Suzanne Luna – Emmy award winning field director at The Ellen DeGeneres Show
John and I worked together to setup the Agora Events CRM system. Throughout the entire implementation process John was friendly, fun, and easy to work with. It was evident that John takes the extra steps necessary to give his clients the best experience possible, and I highly recommend his event services to prospective clients. In addition I highly recommend John as a great human being in general.